Well of course the last race was at North Bryson, & a lot of people were not looking forward to it. Mostly because of past experiences with this track.

I've been there a few times myself, & have never come away with a warm & fuzzy feeling about the place either. Not 'cause it's a bad track, or too rough ( I like it rough ) or poorly laid out. It's just been...er, external forces, like the weather, or lack of it, that has messed it up the past few times.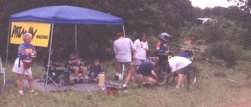 The Patman Pit...With often needed 'tire crew'.
Mr.Monkeybutt is doing the tire change dance, to aid the process.